Maintenance
Across Ireland, many clubs have entrusted this company to perform the necessary routine seasonal maintenance on their pitches/courses, to ensure that the best possible playing surface is available to their members. Irwin's pride themselves on the service and expertise they offer, and provide their customers with a professional package.
The following outlines the measures Irwin GroundWorks feel are necessary to maintain sports grounds and to produce a replenished, rejuvenated, healthy surface that can withstand the harsh schedule of play. Of course, as every pitch/club is different, Irwin's creates the maintenance programme suited to each individual club.
Recommended Annual Maintenance Programme:
Verti-draining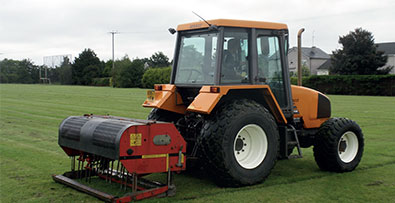 Solid or hollow tines penetrate the surface to depths of between 150 mm and 250 mm, depending on ground composition. Verti-draining aerates the soil, encouraging grass growth, and reverses the compaction incurred from play and wet weather. Once verti-drained, any surface water can quickly penetrate the pitch sub-layers. This creates a faster draining pitch and a tougher, more robust, playing surface.
Top dressing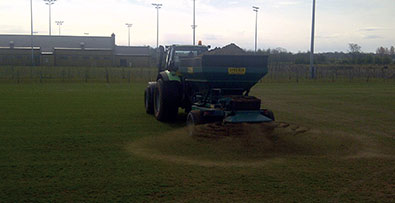 Spreading of sand ensures continuous free draining of the pitch surface to the sub soil layers.
This incorporation of sand into the soil creates a much tougher, more robust playing surface. Sand also helps to level any unevenness created across the pitch by winter play.
Direct Seeding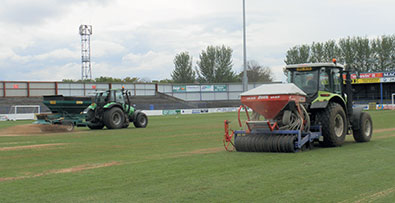 Areas of concentrated wear on the pitch will show sparseness of grass at the end of the season. These will require grass growth to be replenished.
Direct seeding will achieve this, and create a thick, rejuvenated grass blanket. A specialised grass seed should be used, based on the requisites of the pitch in question. It is possible to either stitch in specific worn areas or, if necessary, direct seed entire pitch. In either case, an appropriate rest period will result in healthy, rejuvenated grass coverage across entire pitch. A pitch with healthy grass coverage will better withstand the harsh schedule of play.
Scarifying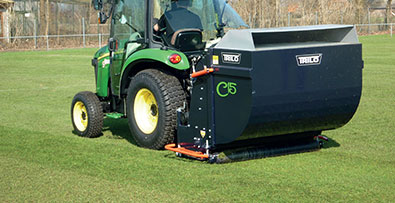 Scarification of the football pitch is carried out to remove thatch and meadow grass. This is essential to clear away the pitch debris and prepare the ground for seeding.
Irwin GroundWorks scarify and lift the grass in a one-pass operation, thus inflicting minimal damage to the surface. By scarifying at a close spacing, it ensures that a good percentage of the undesirable vegetation is removed from the surface. It is recommended that the pitch is rested for two weeks afterwards.
Fertilise/Herbicide Spray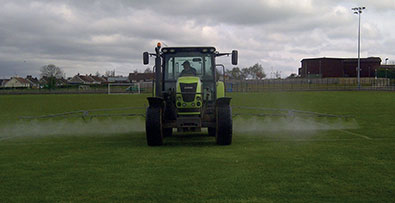 During the winter, nutrients are leeched out of the soil due to adverse weather conditions.
To reimburse the supply of nutrients, the application of specialised fertiliser is required. This will encourage rapid growth of healthy grass that will thicken and cover worn areas. The grass quality should then be at its best for the oncoming season.
Weed control may also be necessary. If weed germination occurs and no form of control is used, the weeds will eventually curtail grass growth. As well as aiding grass growth, the spraying of weeds by certificated personnel will lead to a more aesthetically pleasing pitch.
Turfing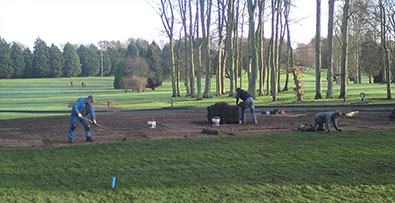 Throughout the winter season the grass coverage at goalmouths will have thinned and be tramped out.
Sand/soil mix should be applied to reinstate goalmouths, and a specialised turf with compatible grass mix should then be laid. A rest period is required to establish necessary root development. The result is a rejuvenated goalmouth ready for the oncoming season.
If you would like to discuss your project or the services we provide then give us a call -
T 07745 675 690
or email
info@irwingroundworks.co.uk
Accreditations